Emile Grimshaw snr ( born October 1880 in Accrington, Lancashire) was a banjo player in the early 1900s, he played in his own quartet, and the highly respected Savoy band.
He made many recordings and was well known for his music and tuition books. Emile Grimshaw jnr(Born 1904 Burnley, Lancashire)) was also a very skilled player and musician who played with the Jack Hylton orchestra(from May 1924 until February 1929), and also contributed to compositions which were credited only to Emile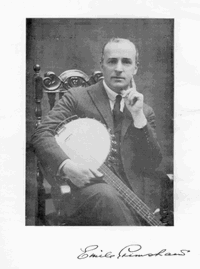 Grimshaw, so it is possible some of the music was a joint effort. To add to the confusion there was also Monty Grimshaw(Emile snrs brother) and Florence Grimshaw(Emile Snr,s wife) who were both good musicians.
In 1930 Emile Grimshaw formed a company with Emile Jnr to manufacture banjos and guitars, he continued to produce music and also his very popular guitar tuition book. This web site is primarily dedicated to the guitar side of the business, see links page for a history of the Grimshaw family and the banjo music and recordings of the early 20th century.